An easy, effective and elegant ventilation pathway
The VanAir door helps facilitate airflow with sound privacy and aesthetics in mind. Airflow and sound privacy are key components of a comfortable indoor environment. More often than not, they are negatively correlated – the more airflow, the higher the chance of sound penetration.
Modern buildings are designed with greater emphasis on ventilation and balanced airflow movement from the supply to exhaust. A balanced system is able to reduce the load on the ventilation system and reduce leakage or infiltration across the building envelope.
Holistically designed to improve Heating, Ventilation and Air Conditioning (HVAC) performance and maintain sound privacy, the flush ventilation slots outperform acoustically baffled door/wall grilles. It is a cohesive, single-source unit, engineered, tested and fabricated for full structural integrity. With VanAir doors, there is no need to pierce the door, or specify proud, surface-mounted aftermarket grilles that may interfere with kick-plates or be a mismatch for door hardware finishes and the surrounding design goal.
Modern ventilation demands also require undercutting doors. Not only is this a sound privacy issue, it creates an unsightly, unfinished look. Floor transitions become more apparent and light penetration can detract from occupant comfort. VanAir doors by Lynden Door allow for consistent 3/16 inch floor clearances.
VanAir Doors provide:
Sound Privacy
Integrated resonator constructions, acoustic baffles and a tighter undercut provide the sound privacy of a solid core door.
Design Flexibility
Create airflow pathways without the complexity of modifying ceilings and walls to accept ducting, vents and grilles. Save installation and material cost.
Avoid Unsightly Undercuts
Doors are undercut to provide airflow. Not only is the fitment unsightly, it is a key factor of poor sound privacy. Even large undercuts may not provide sufficient airflow.
Product Characteristics and Offerings
· Suitable for commercial spaces, single and multi-family residential, hotels, schools and healthcare facilities.
· Attractive, modern design.
· Available up to 4'0" in width and 8'0" in height.
· VanAir is available in a variety of paint grade options, factory finished and veneer.
How it works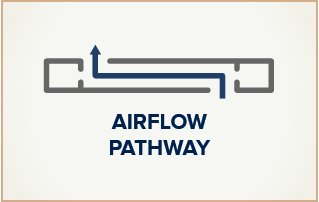 Air flows in from one side, through the door core and out the opposing side driven by pressure gradient.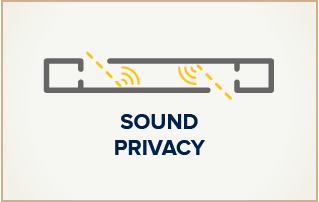 Lab-tested baffling is incorporated
into the door core to absorb high frequency sound.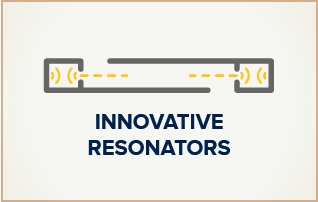 Resonator constructions are integrated into the door stile to absorb low frequency sound as it travels out of the airflow pathway.
Enhance your home's comfort and livability. Air quality matters.
Air quality is an important component of healthy living and essential to a comfortable home environment. Air circulation plays an important role in reducing the build-up of air pollutants like carbon dioxide (CO2) and volatile organic compounds (VOCs) in our homes. These pollutants can lead to respiratory illnesses, poor sleep and breathing disorders. The VanAir Door by Lynden Door promotes air circulation to help create healthier spaces.