Caring for others comes in many forms, an understanding that has driven the wide variety of healthcare-ready interior doors at Lynden Door
In-home care, Hospice and assisted living. Clinics, regional hospitals and large trauma centers. The world of healthcare offers a diverse mix of buildings serving our local populations. And each service has a definite interior door requirement. With Lynden Door's ready-to-install lines brimming with durability, healthcare-specific doors grow even more exacting with ranges that offer multiple openings for ease of use, antimicrobial factory finishes, lead-lining and 90-minute fire ratings all designed to help the healthcare facility focus on serving patients in the safest and most efficient environment possible.
Your Healthcare project has specific needs, both functionally and architecturally. At Lynden Door we manufacture to every one of those needs. No matter the solution right for your project, we design and build doors to enhance the value of your project.
Our expertise in engineering solutions for specific markets and projects has allowed us the privilege of designing doors for an array of projects around the world while learning new ways to meet the next building challenge. Explore examples of our abilities and discover ideas showing how Lynden Door can bring your project the right solution.
CLICK THE LINKS BELOW TO LEARN MORE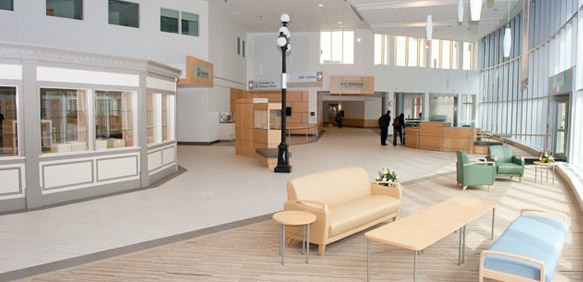 ROYAL JUBILEE HOSPITAL IN PATIENT TOWER
Hospital design gets smarter and more efficient when the clinical part of the design marries the human element. Such was the case at the 500-bed Royal Jubilee Hospital' s in-patient tower in Victoria, British Columbia, renowned for its exacting detail to make not only the patient more comfortable, but the clinical process more efficient.
The Latest Door Innovation
Lynden Door serves as a leader in interior wood door innovation, on the forefront of new manufacturing processes, materials and design to engineer value through ingenuity.
CHOOSE THE DOOR FOR YOUR HEALTHCARE FACILITY
The power of understanding every market segment enables Lynden Door to manufacture for your need. From hospitals, assisted living facilities and surgery centers to your local dental office, we have your solution.
MAKE YOUR HEALTH SERVICE SUSTAINABLE
Lynden Door understands the value of sustainable building, a process we've engineered in from the beginning design, whether the way we source wood, manufacture doors or finish the doors to a variety of specifications.