Find Lynden Door residential, commercial and architectural doors across all segments and applications. Where beauty meets function and performance.
We know interior doors. We know every facet of them, from picking out wood to sustainable manufacturing to door finishes. We want to open that story, chapter by chapter, inviting you into the process of making interior doors—the design and the technical. We invite you into this portal of interior door learning, our effort to help you understand Lynden Door products and assist you in crafting the perfect project.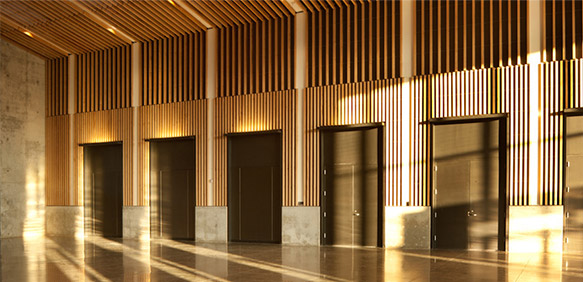 COLONEL NESMITH READINESS CENTER
The multi-award-winning project designed by Hacker and Lease Crutcher Lewis gave Oregon 40,000 square feet of LEED Gold building for administrative, training, recruiting and family support.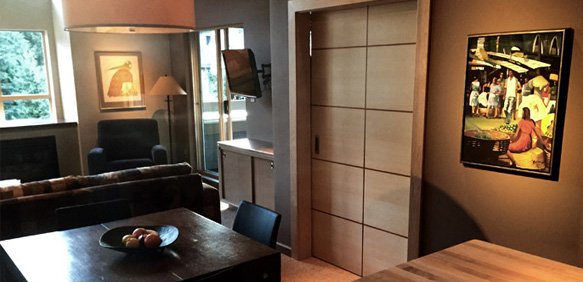 Whistler Village. The name itself can render thoughts of luxury, modernism, pristine recreation and, even, the Olympics. The Tyndall Stone Condo builds all that together into one condominium complex, just steps from the Olympic Celebration Plaza in the heart of the village of Whistler, British Columbia.
Architects create art out of science, bridging the world of design and engineering. Lynden Door serves the architect with innovative new designs for the most progressive projects and traditional creations, with design twists. And we do it all with the technical know-how of a major manufacturer only a link away. With no project too big for us to handle and no custom order too small, let's open up the next world of interior doors together.
Creating a welcome stay for visitors comes in a variety of styles, a variety we match with our own interior door versatility
To help design the rich interior, The Allison Inn & Spa selected Lynden Door's artistic Stileline® doors to help mold the overall aesthetic.
Embracing the beauty of the wood grain, all without adding stress on the sustainability desires of the project.
The Hyatt at Olive 8 hotel offers an architecturally striking addition to the downtown Seattle skyline.
A personalized home, whether an apartment, spec home or luxurious custom-build, represents the same commitment to quality at Lynden Door.
Student housing or community learning centers can vary widely, which is why at Lynden Door we manufacture for all potential educational uses.
The eco-friendly village had a design goal of LEED Gold. The village was so sustainable, however, it was certified LEED Platinum.
Using Lynden Door's maple veneer doors was a part of the effort to show off the architectural, sustainable and functional benefits of the center.
Take a gander at the images of the Colonel Nesmith Readiness Center in rural Willamette Valley in Dallas, Oregon.
Lynden Door knows well the blended project portfolios of mixed-use developers and thrives on serving every single aspect.
SOUTH LAKE UNION DISCOVERY CENTER
Already the Vulcan-owned South Lake Union Discovery Center has won multiple awards for its design and construction.
Such a signature building for all of Vancouver, Shaw Tower stands as an architectural symbol of the live-work mentality sought by a sustainable downtown.
One of Vancouver's newest and most forward-thinking buildings took shape in the city's downtown skyline.
Caring for others comes in many forms, an understanding that has driven the wide variety of healthcare-ready interior doors at Lynden Door.
ROYAL JUBILEE HOSPITAL IN PATIENT TOWER
Hospital design gets smarter and more efficient when the clinical part of the design marries the human element.
LION'S GATE HOSPITAL HOPE CENTRE
The Lion' s Gate Hospital' s new HOpe Centre provides a completely fresh shift on treatment for the mentally ill.
MERRILL GARDENS ASSISTED LIVING CENTER
The signature Spanish-style fountain-filled courtyard sets an architecturally forward design at Merrill Gardens.
OFFICE, TENANT IMPROVEMENT & RETAIL
Tenant improvements and new construction can come with exacting specifications or a chameleon-like need to adapt.
The new 112,000-square-foot facility gave this well-loved Vancouver business a new home that fell within the company's sustainability agenda.
THE LYNDEN DOOR CLASSROOM
We know interior doors. We know every facet of them, from picking out wood to manufacturing to door finishes. We want you to share in that knowledge, learning all you can about the products you experience with your customers. We invite you into this portal of interior door learning, our effort to help you understand Lynden Door products and assist you in helping customers make the right choice.