Lynden Door knows well the blended project portfolios of mixed-use developers and thrives on serving every single aspect
Larger mixed-use projects can easily contain four completely separate market segments, from commercial on the ground floor, hospitality directly above with office and residential rising even higher. And no one mixed-use project looks like another, with some designed with economy a focus and others with high-end luxury a goal. Lynden Door's single-source offerings span the breadth of every market and provide interior door solutions for every need possible, from standard options to architectural construction—from the first floor all the way up to the highest high-rise.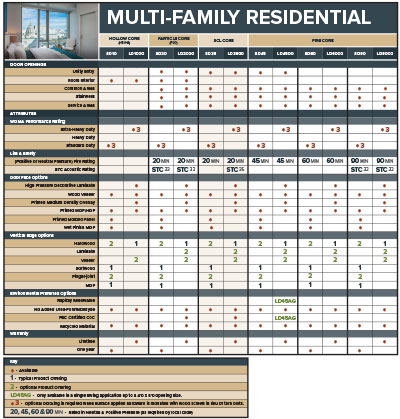 Chose the right door construction for your Multi-Family project
Your Mixed Use project has specific needs, both functionally and architecturally. At Lynden Door we manufacture to every one of those needs. No matter the solution right for your project, we design and build doors to enhance the value of your project.
Our expertise in engineering solutions for specific markets and projects has allowed us the privilege of designing doors for an array of projects around the world while learning new ways to meet the next building challenge. Explore examples of our abilities and discover ideas showing how Lynden Door can bring your project the right solution.
CLICK THE LINKS BELOW TO LEARN MORE
SOUTH LAKE UNION DISCOVERY CENTER
Already the Vulcan-owned South Lake Union Discovery Center has won multiple awards for its design and construction.
The Latest Door Innovation
Lynden Door serves as a leader in interior wood door innovation, on the forefront of new manufacturing processes, materials and design to engineer value through ingenuity.
Choose the door for your mixed-use project
The power of understanding every market segment enables Lynden Door to manufacture for your need. From economy to upscale luxury, boutique or mid-scale, we have your solution.
Make your project sustainable
Lynden Door understands the value of sustainable building, a process we've engineered in from the beginning design, whether the way we source wood, manufacture doors or finish the doors to a variety of specifications.